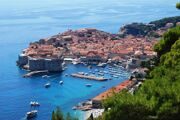 New criteria for the entry of tourists to Croatia. 04/01/2021
On Wednesday, March 31, the Croatian authorities announced a change in the conditions of entry into the country for foreigners from non-EU countries, expanding the "circle of proof of non-contagion" for foreigners entering the country. We tell you what the Russians now need to enter Croatia.
As the head of the national tourist office of Croatia in Russia, Mr. Raiko Ruzicka, clarified in an interview with Vestnik ATOR, according to the new rules for entering Croatia, from April 1, Russians will be able to enter this country by presenting one of several documents to choose from. The choice is as follows:
1. As before, it will be possible to come with a certificate of a negative PCR test for COVID-19 (the date of delivery of the biomaterial is no earlier than 48 hours before arrival at the border checkpoint).
2. Instead of a PCR test, from April 1, it will be possible to present a negative result of a rapid test for antigens to coronavirus (but only those tests that are approved at the EU level - the list can be found here).
The express test itself must also be done no earlier than 48 hours before entering Croatia. However, if a foreigner enters Croatia for more than 10 days, then he must conduct a second rapid antigen test on the 10th day of stay.
3. You can do without tests. So, from April 1, it will be possible to enter Croatia with a certificate (certificate) of vaccination against coronavirus. Croatia recognizes any vaccine, including Russia's Sputnik V and China's Sinovac.
Condition: at least 14 days must have elapsed since the second dose was administered. If the vaccine is with one dose (for example, the promising Russian "Sputnik Light" or another single-component) - at least 14 days must pass from the moment of vaccination.
The vaccination certificate (reference) is valid from the date of issue for 180 days. The vaccination certificate must be translated into English. No notarization is required. Documents in Russian will not be accepted.
4. Finally, there is another entry option: this is a certificate of a previous coronavirus disease, with a confirmed negative result of a recovery test (this must be indicated in the document).
Such a certificate at the time of presentation at the border must also be in English only and issued no later than 11 days before crossing the Croatian border. It is valid (as well as the certificate of vaccination) 180 days from the date of issue.
Children under 7 years old, if they are traveling with those who have one of the above documents, do not need certificates.
THE VISA PROBLEM
Russians can visit Croatia for tourism purposes. But for this, a tourist from Russia must have a valid Croatian visa. Recall that currently the consular services and visa centers of Croatia in Russia do not issue tourist visas.
A replacement for a Croatian visa can be a valid Schengen multi visa or (there are also such options) - the national multi visa of Bulgaria, Cyprus, Romania.
According to some reports, Croatia is preparing this spring to restore the process of issuing tourist visas to Russian citizens. However, when exactly this will happen is still unknown.
Even if a Russian citizen has a visa, proof of residence in Croatia is required. This can be a hotel reservation, voucher, rental agreement, and other documents confirming paid accommodation in the accommodation facility in accordance with the requirements.
In addition, before flying to Croatia, you must fill out a special form on the website of the Croatian Ministry of Tourism. This procedure will significantly speed up the crossing of the Croatian border. A form with a unique code will be sent to the applicant's email address, which must be printed and carried with you. This document will be required when crossing the border by any transport - plane, bus or private car.
Sources of information: Croatian Ministry of Tourism and Sports; ATOR